For several years I've been sending images on a weekly basis to my close friends with the goal of sharing "Good Views" of my world I recorded with  my camera.  I usually write a few words about the image.  I share my experiences in the field or write about what the image means to me.
Here is an example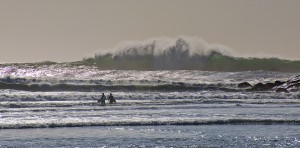 Good Times With Good Friends
On Sunday at the Oregon Coast I watched two surfers jog down the beach with their boards, when they waded into the water I took this image.  I've been there, both on the sand and at other thresholds in my life's journey.  I know what motivated me to climb on my board and paddle out into the churning white water: the joy and thrill of riding the waves.  Good times with good friends.
RW